Written By: Patrick Brown and Brandon Pedersen, Student-at-Law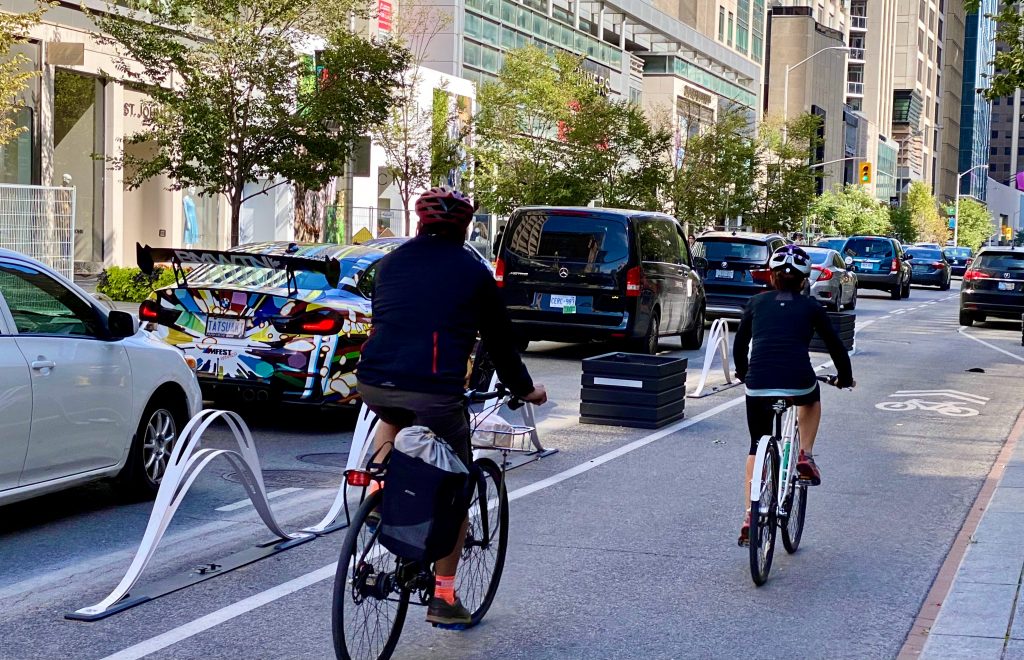 Yet another cyclist is killed after being struck by a heavy truck. On Friday, November 20, 2020, a man in his 40s was pronounced dead on the scene when he was struck by a cement truck while riding his bike in the area of Royal York Road and Judson Street. Early reports suggest the truck was making a right-hand turn and failed to yield to the cyclist who had the right of way. Much like most of Toronto, this area of Royal York Road has a bicycle lane for cyclists to be afforded a safer means of travelling on the road, as they have the right to do. However, not even bike lanes can prevent truckers from striking and killing cyclists.
In June of 2018, a cyclist riding in the bike lane at St. George Street and Bloor Street was struck by a flatbed truck that attempted to make a right-hand turn and failed to yield to the cyclist. Unfortunately, this was fatal for the cyclist.
Recently, McLeish Orlando lawyers successfully completed a case involving a young lady who lost her leg when a dump truck made an illegal right turn across a bike lane to enter a street where no trucks were allowed.
In Canada, from 2006 to 2017, an average of 74 cyclists (bicyclists) were killed in crashes each year. 73% of cyclist fatalities were caused by collisions with a motor vehicle. Of those cyclist fatalities, 19% of cyclists were killed after being struck by a heavy truck.[1]
There is a clear void that needs to be rectified. Time after time, cyclists are struck by large trucks who fail to see or fail to yield to cyclists. The government has attempted to improve cyclist safety by installing bike lanes throughout the GTA, which help in providing a specific portion of the road where only cyclists are permitted to travel. There has been widespread support for mandated side guards on trucks, which are particularly effective when both the truck and the bike are involved in a sideswipe collision. However, the only way to effectively reduce, and hopefully eliminate, the number of cyclists struck and killed by heavy trucks, especially right-turning ones, is to improve the education of truckers with respect to cyclists and bike lanes.
How can this be achieved? While there are mandatory training courses for those drivers seeking heavy-vehicle licenses, there needs to be more focus on cyclist-safety. There are many ways of raising cyclist-safety awareness, including:
Mandatory training specific to cyclist safety – companies in the UK and Australia offer training programs that require commercial truck drivers to "ride a mile in the shoes of cyclists" by having them spend 3+ hours riding bicycles on the road. Evidence from the UK program has shown a 47% reduction in casualty rate after implementing the training program.
Improved visibility tools, such as better use of side mirrors, including but not limited to, blind-spot mirrors;
Alarming systems that alert truck drivers when there are cyclists or pedestrians in a potentially dangerous area of a truck;
Knowing bicyclist's rights – it is time that all users of the road are made aware of the rights cyclists have on the road. Bicycles on the roadway are considered vehicles and should be afforded the same level of safety and caution that one motor vehicle user exercises in relation to another motor vehicle driver. It is essential that motor vehicles look carefully for bicyclists before turning left or right, merging into bicycle lanes, and ultimately, respecting the right of way of bicyclists because they are entitled to share the road.
As vulnerable users of the road, more attention and awareness surrounding cyclist safety is required in order to prevent the continuation of fatal collisions involving motor vehicles and bicycles. As the amount of people opting for bicycles instead of motor vehicles continues to increase, safety measures are required to address the ongoing problem and hazards that cyclists face. All users of the road need to accept that bicyclists are here to stay, and they need to make the appropriate changes to their driving practices in order to ensure cyclist safety.
If you or a loved one have suffered a serious injury, contact the lawyers at McLeish Orlando for a free consultation.
[1] Source: https://tests.ca/driving-statistics/