Written By: Dale Orlando and Nicole Fielding, Student-at-Law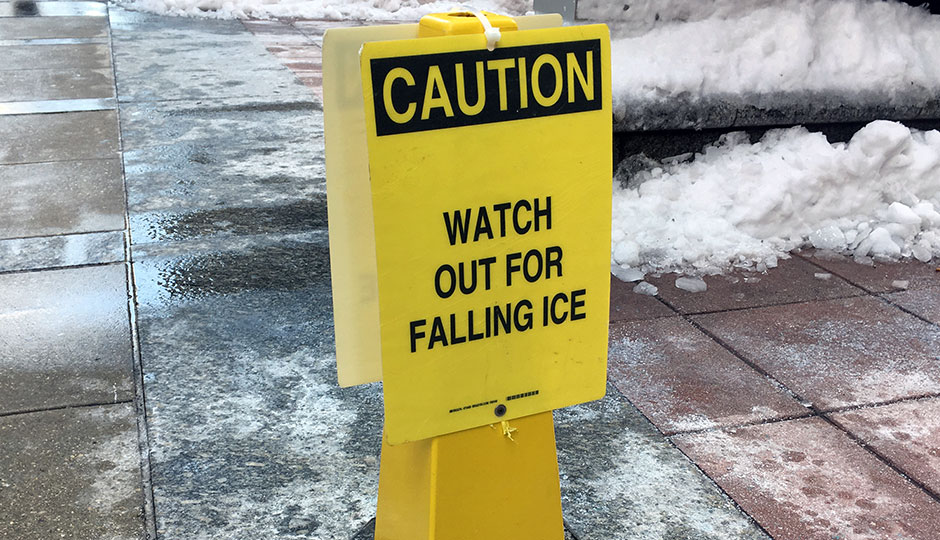 Photo: Dan McQuade
Traversing the city during the wintertime is no easy feat. Slush and ice on concrete sidewalks can make for a slippery walking surface that require constant attention from pedestrians. There is also the risk of falling ice and snow from skyscrapers towering above.
Reports of ice and snow falling from buildings in Toronto, causing injuries and property damage are not uncommon. As Toronto's ever-changing skyline continues to be dotted with  high-rise buildings, awareness of the danger posed by falling ice and snow is increasingly important. Read on to learn more about the risks, liability and safety tips to protect yourself from this winter hazard.
How does this happen?
Some recent innovations in the area of environmental awareness and efficiency have, ironically, lead to more dangerous conditions for falling ice and snow.
A 2012 paper published in the International Journal on Tall Buildings and Urban Habitat considered the causes and potential solutions for ice falling from skyscrapers in northern regions. As buildings are becoming more energy-efficient, they release less heat, and thus have colder exterior surfaces. This can lead to greater build up of ice and snow on the roof and façade of buildings.
In addition, recent architectural design trends involving soaring ledges and other features extending high off the ground can increase the risk of snow and ice formation. On particularly tall buildings, in-cloud icing can and does occur. When this ice builds up on precarious edges and sides of buildings, it can fall from a dangerous height.
As temperatures heat up, snow and ice that has settled on a building starts to melt and slide off onto streets and sidewalks below. As such, extra caution during unseasonal warm-ups and springtime thaws is necessary.
Who is responsible?
Snow and ice falling from heights can cause serious injuries to pedestrians and road users below. Property owners have a responsibility to ensure their premises are reasonably safe.  The standard is not one of perfection, but it is reasonable to assume that they have a responsibility to take steps to eliminate this type of hazard. This includes having a reasonable system of inspection and maintenance and providing warnings of any possible hazards.
Local by-laws are often a good resource to turn to, to learn more about your responsibilities when it comes to snow and ice on your property.
For example, chapter 629-20 of the Toronto Municipal Code states that every roof of a building and all its components should be free from the dangerous accumulation of ice and snow.
Chapter 719-4 states that the owner or occupant of a building which fronts or abuts on or is erected near a highway from which snow or ice may fall on the highway must remove any dangerous accumulation of snow or ice on the building, and take proper care and precaution to warn those using the surrounding highways, sidewalks and laneways.
For more information about the responsibilities of municipalities in maintaining safe walkways during the wintertime, check out our blog post here.
How can you protect yourself?
Ice and snow falling from a tall building can be unpredictable for pedestrians navigating the sidewalks below. The best thing you can do to protect yourself is be aware of your surroundings, including what may be above.
Watch for notices warning of falling snow or ice in a particular area, and avoid taking routes with these hazardous zones. Obey any signs restricting roadways or closing sidewalks due to falling debris.
For more information about protecting yourself and other road users in the wintertime as a driver, click here.