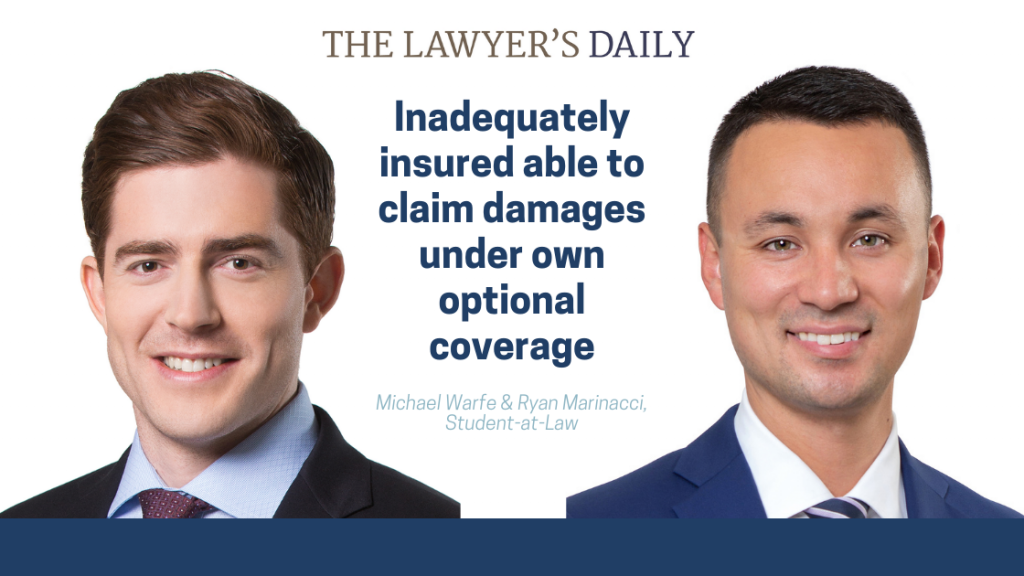 McLeish Orlando lawyer, Michael Warfe, and Student-at-Law, Ryan Marinacci, wrote this piece for The Lawyer's Daily.
A person involved in a collision with an inadequately insured motorist may claim damages from their own insurer where they are covered by an OPCF 44R endorsement.
The Superior Court of Justice in Lamb v Co-Operators General Insurance Co, 2020 ONSC 4955 recently dismissed the motion for summary judgment brought by Co-Operators, the OPCF 44R insurer.
Co-Operators argued that the Plaintiff had made no effort to identify the driver or owner of a vehicle that ultimately fled the scene after striking her even though she had every opportunity to do so.  The court disagreed and found that Plaintiff did not have a reasonable opportunity to identify the driver or vehicle that struck her due to her physical injuries, her emotional condition, and the driver's decision to flee within minutes of the collision.
In the result, the motion was dismissed because the insurer failed to satisfy the motion judge that there was no triable issue as to the reasonableness of the Plaintiff's efforts to identify the driver or vehicle.
This decision is a reminder that the reasonableness inquiry as to a claimant's efforts to identify a fleeing vehicle and driver starts with his or her condition after the collision.
Click here for the full article.