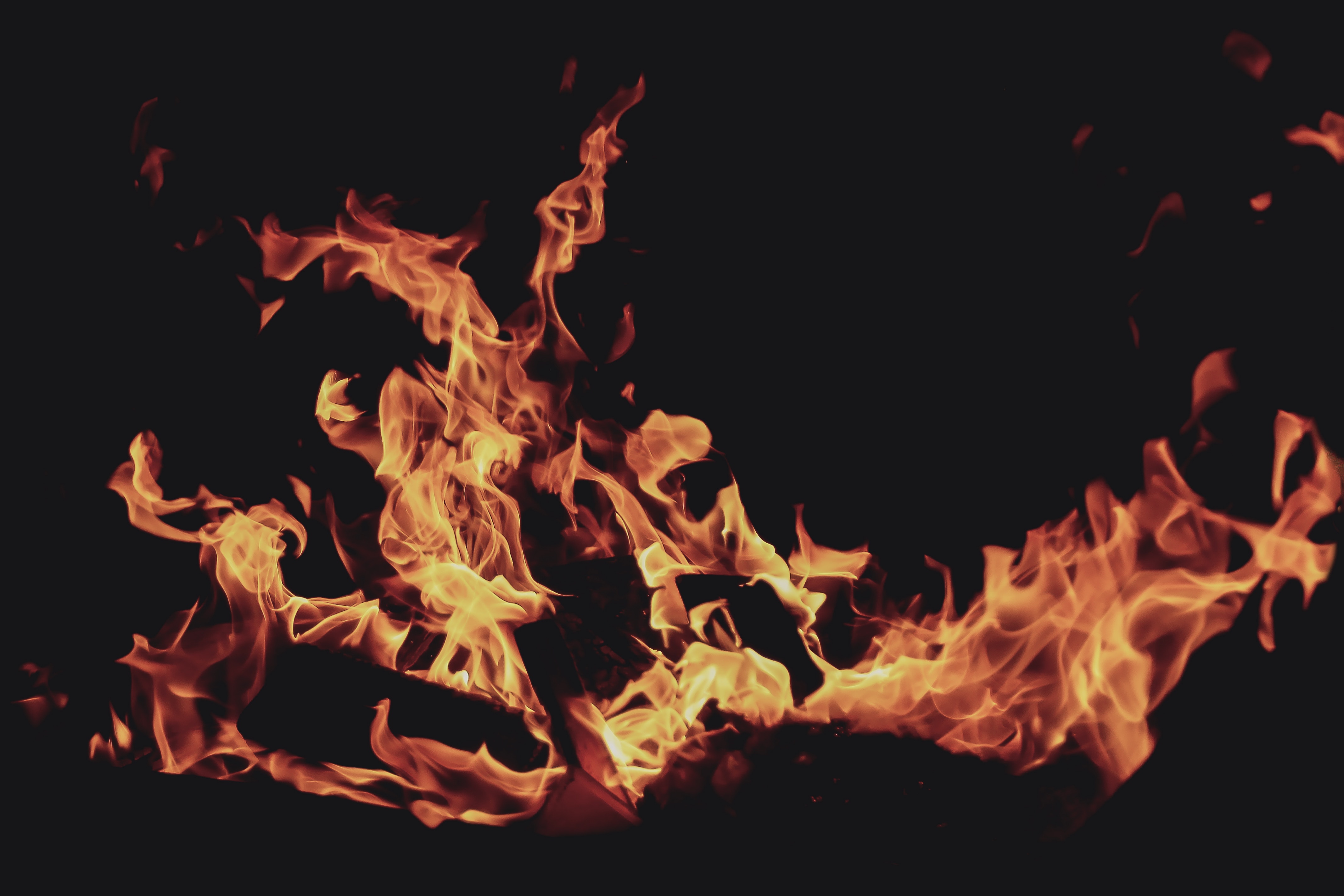 Household fire products are used in homes and backyards across Ontario for cooking or and for lighting, both indoors and out. This summer, many Ontarians will gather around a fire pit to cook, drink, and socialize. Others will use ethanol lamps as a source of light. Many fire products instill a false sense of security in consumers, who naively believe that there is no risk of harm. However, as recent cases and news articles have demonstrated, fire products can be extremely dangerous and can cause serious injury, and even death to users, or those close by.
On August 13, 2016, Judith Buys and her husband were invited to a neighbour's cottage in Kawartha Lakes.  There was a power outage earlier in the day and the cottage owner was using an ethanol lamp as a light source. The light faded and the cottage owner assumed that the lamp was out of ethanol and that the flame was extinguished.  She obtained a container of ethanol and started pouring ethanol into the lamp.  As it turned out, the flame on the lamp was not extinguished.  A flash fire erupted.  The refueling container had no flame arrester and flames and liquid ethanol shot out of the container, hitting several in the room, including Judith. Judith suffered severe burn injuries to most of her body. She was airlifted from Ross Memorial Hospital in Lindsay,  to Sunnybrook burn unit and later died as a result of the injuries she suffered.[1]
On May 9, 2018 24 year old Hana Engel and some friends were visiting NHL player Cody Ceci's house for dinner.  As they sat around Ceci's fire pit in his backyard socializing, the fire began to die out.  A guest at the gathering poured fuel on the fire in an attempt to prolong it.  Flames ran up the stream of fuel and set the bottle on fire. The bottle was thrown on Ms. Engel and burning ethanol spilled over her. She suffered second and third degree burns to 35 percent of her body.  Emergency services were called and paramedics  rushed Ms. Engel to the hospital. She was put into a medically induced coma for 3 weeks and underwent more than 15 skin grafts. Her torso, arms and legs are now covered in scars.
Both of these horrific incidents were preventable. Home fired products, like ethanol lamps and fire pits are inherently dangerous, but create an illusion of safety. Manufactures could do much more, including the installation of flame arresters, at very low cost.  Distributors and retailers could do more with proper instruction and warning labels.  Much more can and should be done. Consumers deserve better protection to ensure that they can use these products safely and confidently.  The Ontario government should take steps to make home fire products safer.  Until the government takes positive steps to do so, manufacturers, distributors, and retailers need to be held accountable for the harm home fire products cause.
[1] Mark Giunta and Greg Davis, "Family of late Peterborough dentist suing ethanol lamp-maker for $12M", Global News (March 12, 2018).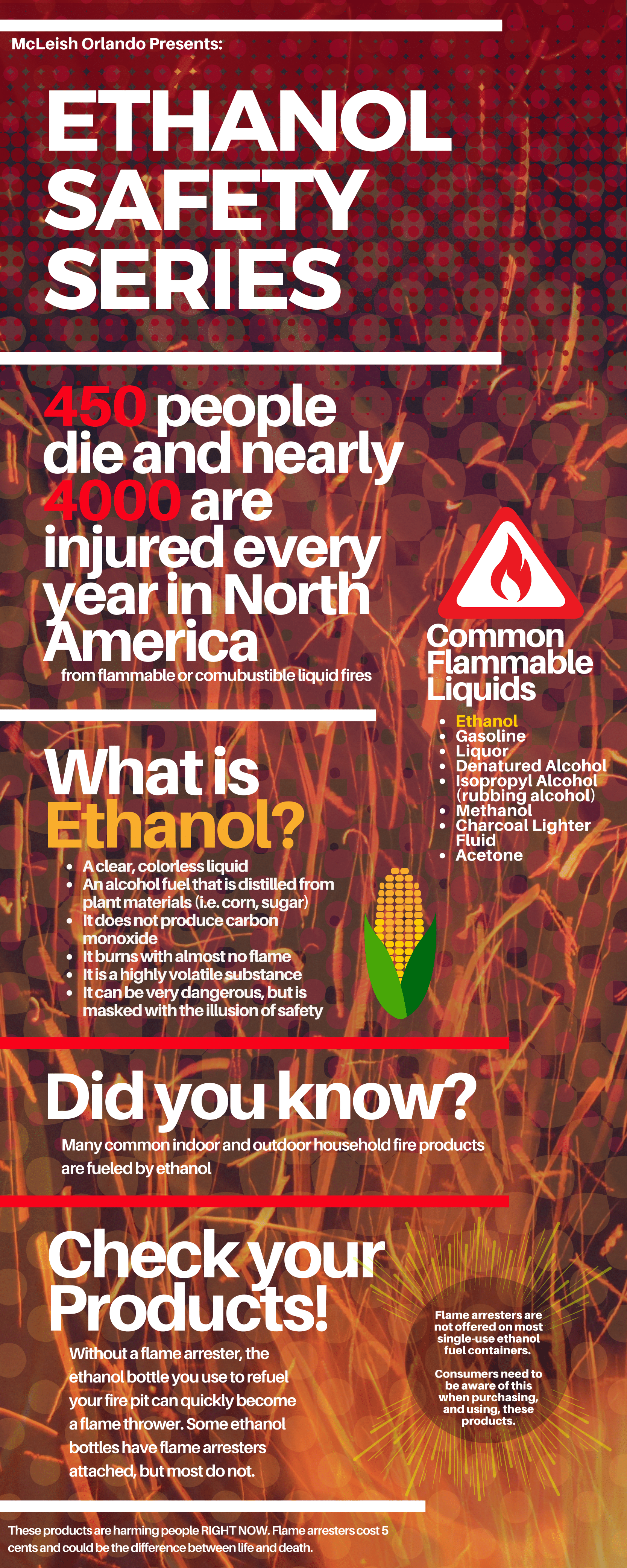 In the Media:
Fire Pot Testimonial Dr. Jim McGorman – Government of Canada
July 28, 2018, National Post: Ontario fire marshal to conduct tests after 'flame-jetting' injuries and death
July 28, 2018, Vancouver Courier: Ontario fire marshal to conduct tests after 'flame-jetting' injuries and death
May 22, 2018, Global News: Whitby burn victim launches lawsuit against ethanol-fulled lamp company
March 12, 2018, Global News: Family of late Peterborough dentist suing ethanol lamp-maker for $12M
March 9, 2018, The South Bayview Bulldog: Family of Peterborough woman sues ethanol lamp maker
March 8, 2018, Canadian NewsWire: McLeish launches $12M suit in cottager's tragic lamp fire fatality 
March 8, 2018, MyKawartha: Family of Peterborough dentist killed in 2016 accident sues ethanol-fueled lamp maker for $12 million 
March 8, 2018, The Peterborough Examiner: Family sues lamp-maker after death of Peterborough dentist Dr. Judith Buys
March 8, 2018, KawarthaNOW: Family of the late Judith Buys launches $12 million negligence lawsuit
September 3, 2019, CityNews: Ontario Fire Marshal issues warning about using ethanol-fueled fire pots
September 4, 2019, CityNews: Multiple deaths connected to ethanol-fueled fire pots
September 9, 2019, CTV News: Doctor dies while using ethanol-fueled device
September 12, 2019, CTV News: More severe burns linked to ethanol fueled devices
September 12, 2019, CTV National News: Warning about popular product
September 12, 2019, CTV News: Burn victims' families push for ban on ethanol firepot burners
October 10, 2019, CBC News: Fire officials warning about ethanol-fueled fire pots