Written by: Lindsay Charles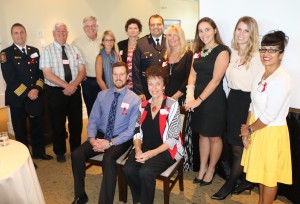 McLeish Orlando is excited to help support the launch of Heads Up! Durham.
Heads Up! Durham is a brain injury awareness and community mobilization whose goal is to increase awareness of brain injury and its causes and support programs for those suffering through Durham Region.
The founders of the organization are Linda Lowery and Ted Dionne. Their son suffered an acquired catastrophic brain injury in 2008 and is a past client of John McLeish.
As a personal injury lawyer in Toronto, I see the devastating effects of acquired brain injuries on victims and their families and am very excited to be able to participate in this community initiative, and help to raise awareness. I am proud to be part of the team as a member of the Heads Up! Durham Steering Committee.
The stats are alarming! Acquired Brain Injury (ABI) is more commonly becoming known as a "silent epidemic" by many experts in the field. ABI is the leading cause of death and disability for Canadians under the age of 45. Furthermore, 30 per cent of all brain injuries are suffered by children and youth.
McLeish Orlando is happy to be working with such a wonderful organization and family.
Want to get involved? Visit their website at www.headsupdurham.ca.