Did you know that if you are in an accident in Ontario you are entitled to Statutory Accident Benefits, regardless of who is at fault? If a person is seriously injured as a result of an accident, these benefits may be substantial.
However, accessing these accident benefits may be challenging. If you have ever had the misfortune of having been in a serious collision or know someone who has, you know how challenging it can be to navigate the insurance system. Ontario's automobile insurance compensation system, which provides accident benefits, can be tricky to understand.
The personal injury professionals at McLeish Orlando have decades of experience in dealing with Ontario's accident benefits system. They have used their practical experience to write the Accident Benefits Guide, which has been published by LexisNexis. This Guide provides a roadmap for navigating the complex accident benefits system.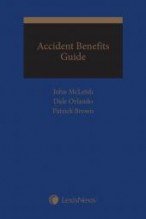 The Accident Benefit Guide also discusses the changes to the accident benefits compensation system effective June 1, 2016.
For more information on the Accident Benefits Guide visit LexisNexis or contact us. To learn about the other personal injury publications we have written, click here.