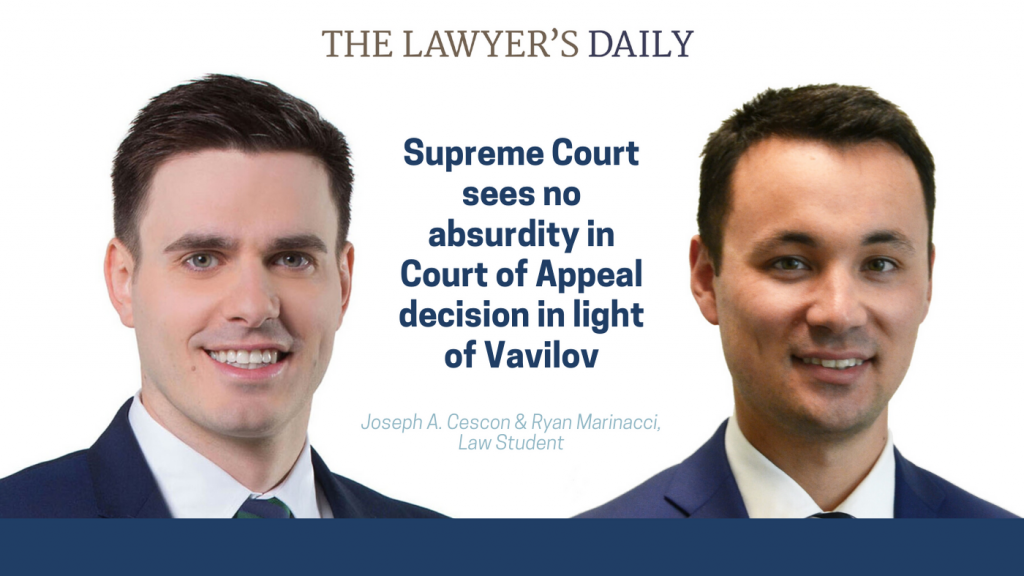 McLeish Orlando Partner, Joseph Cescon, and Law Student, Ryan Marinacci, wrote this piece for The Lawyer's Daily.
The Supreme Court of Canada dismissed the insurer's application for leave to appeal from Tomec v. Economical Mutual Insurance Company 2019 ONCA 882 despite significantly altering the administrative law landscape in Canada (Minister of Citizenship and Immigration) v. Vavilov 2019 SCC 65.
In Vavilov, the Supreme Court changed several bedrock administrative law principles underpinning the Court of Appeal's reasons after Tomec was released.  Yet the Supreme Court left undisturbed the panel's unanimous conclusion that our client was not statute-barred from claiming increased benefits.
This is because the Licence and Appeal Tribunal's decision was so flawed as to render immaterial the fundamental changes brought about in Vavilov regarding how administrative decisions are reviewed by the courts.
Resoundingly, the Court of Appeal held that an individual could not be statute-barred from claiming the enhanced benefits triggered by becoming catastrophically impaired prior to being accepted as catastrophically impaired.
Although seemingly self-evident, this conclusion was in fact contrary to the view of the Licence Appeal Tribunal and of the Divisional Court on judicial review.
Unsurprisingly, however, the Supreme Court did not feel the need to address this issue any further even in light of Vavilov.
Click here for the full article.