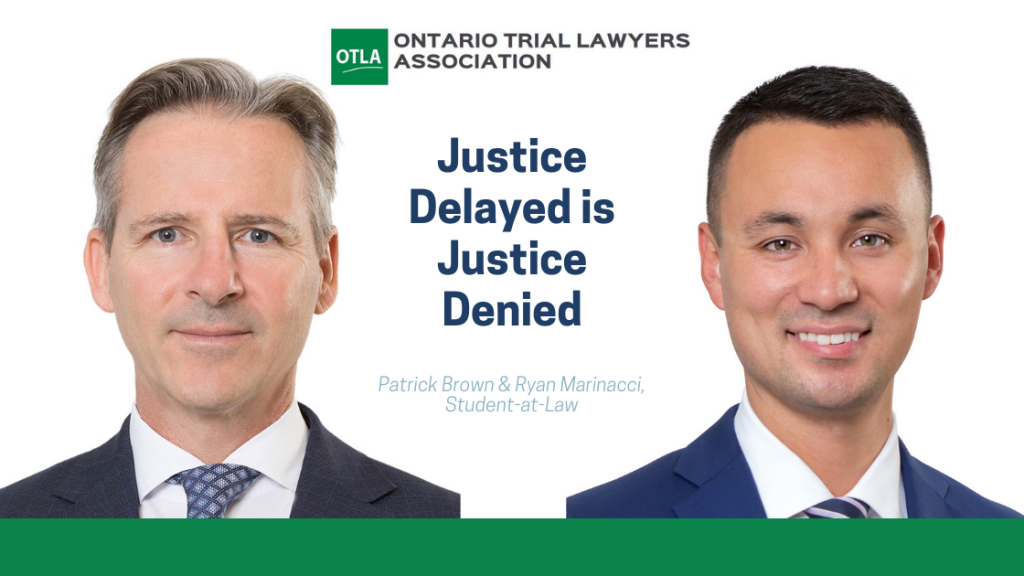 Reprinted with permission of the Ontario Trial Lawyers Association. First printed in The Litigator, September 2020.
McLeish Orlando Partner, Patrick Brown, and Student-at-Law, Ryan Marinacci, wrote this piece for The Litigator September 2020 Issue.
Well before the pandemic, the years-long delay to obtain a jury trial had been frustrating access to justice.  Indeed, deficiencies inherent in the civil jury system have long justified eliminating juries altogether.  This is because insurers drive up the exceptionally high rate of civil juries in Ontario, which comes at a heavy cost to plaintiffs.
Juries are not informed of policy limits, nor told the defendant is insured and defended by the insurer.  Juries are also not told about the statutory deductible and that insurers often keep the first $40,000 of the damages awarded.  Appellate courts routinely revisit high jury awards yet defer to juries on low awards.  And finally, there is no real way to prevent jurors from using smartphones to access external information that would be inadmissible at trial.
Ontario must eliminate civil jury trials to remedy the systemic issues that disproportionately impact plaintiffs particularly in light of the access to justice crisis in relation to the ongoing pandemic.
Click here for the full article.