Written By: Patrick Brown and William Harding, Student-at-Law
Fire safety week runs from October 8th to October 14th this year. This is a good opportunity to review the fire safety plan in your home and ensure that it is adequate to keep you and your family safe. A critical part of any fire safety plan is the proper instillation and maintenance of smoke and carbon monoxide (CO) alarms.
Smoke Alarms
Most fire fatalities occur at night time, which is why a proper functioning smoke alarm is so important. In many cases, a smoke alarm will activate well before a person would have otherwise noticed the fire. This time is extremely valuable, potentially allowing residents to extinguish smaller fires, and safely flee from larger ones.
The invention of a simple and affordable smoke alarm was a major step forward in fire safety for Canadian households. In 1975, smoke alarms became required in Ontario homes outside all sleeping areas. The result of the increased use alarms was dramatic, leading to a significant decrease in the number of fire fatalities over the next few decades.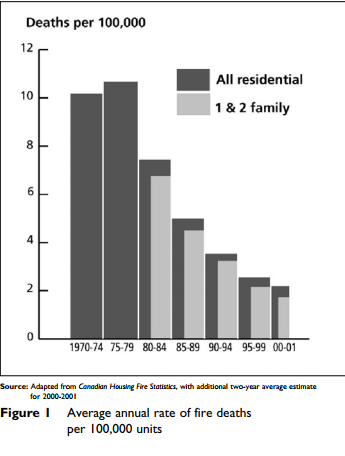 When installing smoke alarms, be sure to have at least one on each level of your home. Alarms should be placed in the hallways leading to all bedrooms in order to ensure that any sleeping residents are awoken if there is a fire. Install alarms in the middle of the ceiling, away from vents and ceiling fans. Do not install in corners as this is what is called "dead air space", as this area may not fill with smoke in the event of a fire. The diagram below shows where an alarm should be placed.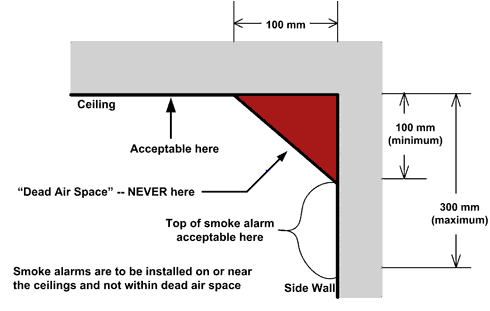 While instillation is the first step to an effective fire safety plan, regular maintenance is equally important. Batteries should be changed at least once a year to ensure an alarm is functioning. A good practice is to change your batteries at the same time as you adjust your clocks in the spring and fall of each year.
It is also advisable to vacuum your alarms as the accumulation of dust can affect their functionality. When done cleaning, be sure to push the "test" button on the unit to ensure the alarm is still functional.
Carbon Monoxide Alarms
Like smoke alarms, functioning carbon monoxide alarms should be installed in every home. Many of the alarms available for purchase today are dual smoke/carbon monoxide detection.
Carbon monoxide is an invisible, tasteless, odorless gas that prevents your body from properly absorbing oxygen into the bloodstream. It is dangerous because it is impossible for humans to detect on their own, and the symptoms of CO poisoning appear gradually. Often, individuals will not even realize they are being exposed to CO until it is too late. Exposure can lead to serious and permanent neurological injuries, and even death.
There are approximately 200 deaths due to CO poisoning each year in Canada. Many of these could have been prevented if a properly functioning alarm was in place. As with fires, most CO fatalities occur while residents are sleeping. For this reason, alarms should be placed in or near all sleeping areas in a home. Be sure to check alarms at least once annually to ensure they are in proper working order.