Written By: Stefanie Chimienti and Krystal Leonov, Student-at-Law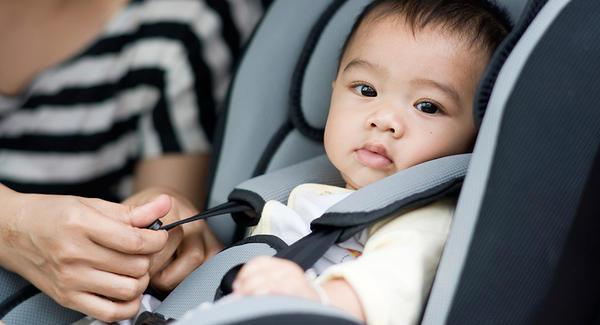 As a family, you will certainly spend a lot of time in the car, whether it is travelling from school to soccer games, from the grocery store to Grandma's house, and back again. This is why choosing and installing the right car seat for your child is so important. According to the Canadian Paediatric Society, 44% of people do not use their car seat correctly.  This is a serious concern, considering that motor vehicle collisions are the number one "cause of death by preventative injury" for Canadian children between the ages of one and nine.  However, when car seats are used properly, car seats reduce the risk of fatal injury by 71%.
In order to help you strap in your precious cargo, we have compiled some tips on choosing and installing a car seat – the correct way!
CHOOSING THE RIGHT CAR SEAT
What to look for
When you are shopping for a car seat, look for the National Safety Mark label attached to the seat. This label indicates that the car seat complies with Canadian regulations and standards and is legal for use in Canada. An example of the National Safety Mark symbol is shown below:
Also be on the lookout for the "useful life date", which is on every car seat and booster seat sold in Canada. Be sure to buy car seats that are still within this "useful life date." The use of the car seat should not be extended past this date.
Bring a checklist
Download a checklist from the Government of Canada website to bring with you to make your shopping easier.
Child car seats for infants
Newborn babies need special protection while in a vehicle.  If ever involved in a collision, a properly installed rear-facing car seat can save your baby's life.
Ontario's Highway Traffic Act requires children to use a rear-facing car seat until the child weighs 9 kg (20 Ibs)
It is recommended that you keep your child in a rear-facing car seat until they reach the manufacturers maximum weight and height limits
Infant car seats can be used for children that weigh up to 20kg (40Ibs)
Child car seats for toddlers
Ontario's Highway Traffic Act allows children weighing 9kg to 18kg (20 to 40 Ibs) to use either a forward-facing or rear-facing car seat, as long as the car seat manufacturer recommends its use
A forward-facing car seat uses a tether strap to prevent the seat from moving forward in a collision. It is very important to install and use this strap exactly as recommended by the manufacturer.
Booster Seats
Ontario's Highway Traffic Act requires children weighing 18kg to 36kg (40 to 80 lbs) and standing under 145cm (4ft. 9 inches) to use a booster seat.
Booster seats raise the child upwards so an adult seatbelt can appropriately protect them.
Booster seats protect children from injury three times better than the use of a seatbelt alone.
Seatbelts
If your child is over 36kg (80 lbs) and standing over 145 cm (4ft. 9 inches), consider this five point test to see whether your child is ready to travel with only the use of a seatbelt:
Your child is able to sit all the way back, against the back of the seat
Your child's knees bend comfortably over the edge of the seat without slouching
The lap belt fits snugly across the top of the thighs and does not slide up over their stomach
The chest belt goes across the chest and the middle of the shoulder, and not across the neck or back
Register your child car seat or booster seat
After purchasing your car seat, be sure to register your new seat with the manufacturer. Registering with the manufacturer is the only way that you will receive notices about any safety recalls affecting the product. There are two ways to register:
Mail the product registration card to the manufacturer
Visit the website of the manufacturer and register online
INSTALLING A CAR SEAT
The following are helpful tips to follow when installing your car seat:
To test whether your car seat is securely installed, grab the base of the seat at its point where secured with the belt path and give it a firm shake. You do not want to be able to move the seat more than an inch from the back and side to side.
If you purchased a rear-facing car seat, be sure that this car seat is positioned at a 45-degree angle.
If you purchased a forward-facing car seat, be sure that this car seat is anchored using the tether strap.
To test whether you are appropriately using the harness, be sure that the harness lays flat with the chest clip, at the armpit level. To check this, use the "pinch test": pinch the harness strap at the shoulder – the straps should be tight enough when you can no longer grab any excess material.
The number one concerns of parents are their child's safety. If you are ever unsure about the proper installation of your car seat, stop by your local fire or police station where our service members may confirm its proper installation. Car Seat Clinics are also offered throughout Canada by a variety of organizations, where you can learn from a trained child seat technician.
After the successful installation and use of your child's car seat, be sure to stay current with the latest car seat recalls at Transport Canada.
Stay Safe, and Happy Travelling!