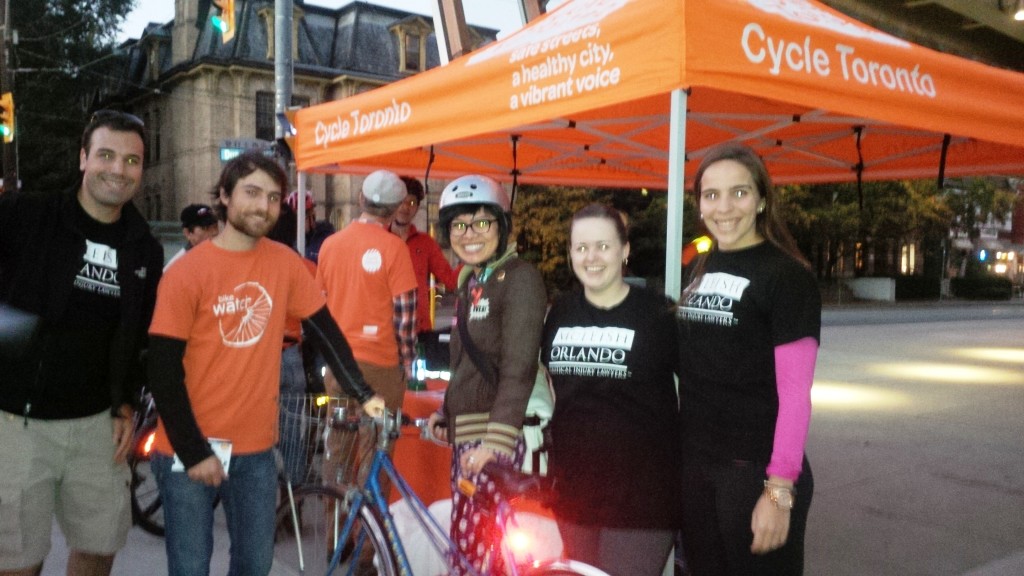 With the arrival of the fall season fast approaching, days are shorter, leaving numerous cyclists caught in the dark on their commute home from work. Cycling at night is a dangerous time to bike due to poor visibility. Without lights, cyclists become invisible to motor vehicles.
The McLeish Orlando team took to the Toronto streets last night to promote Cycle Toronto's Get Lit! campaign. The campaign is aimed towards educating the public on safe cycling at night. Under Ontario law, cyclists must have a rear red light or reflector and a front white light shining thirty minutes before sundown and thirty minutes before sunrise. Lights and reflective clothing are imperative for cyclist safety when biking at night. As a part of the Get Lit! Campaign, McLeish Orlando, McKellar Structured Settlements and Norco Bicycles provided cyclists with the proper bike lights and made aware of the dangers of cycling at night.
Here are a few other tips on making your cycling commute home even safer:
Map your route:  plan your route in advance, find out whether their are bike lanes and see how much traffic is in the area
Obey the rules of the road: follow all traffic signs and do not assume that everyone on the road can see you
Turn off the music:  music is a distraction and with headphones on you will not be aware of your surroundings
The Get Lit campaign will continue every Tuesday through October at various downtown Toronto locations. Protect yourself against the dangers of cycling at night and ensure that your bike is equipped with the necessary front white light and back red light or reflectors.
Photos courtesy of Maarten Heilbron, Volunteer at Cycle Toronto
McLeish Orlando LLP is an established critical injury law firm in the area of cycling and car collisions. If you or someone you know has been injured in an accident contact McLeish Orlando LLP for a free consultation with a personal injury lawyer.
For more articles related to Bike Safety click on the links below:
For more information about McLeish Orlando click here