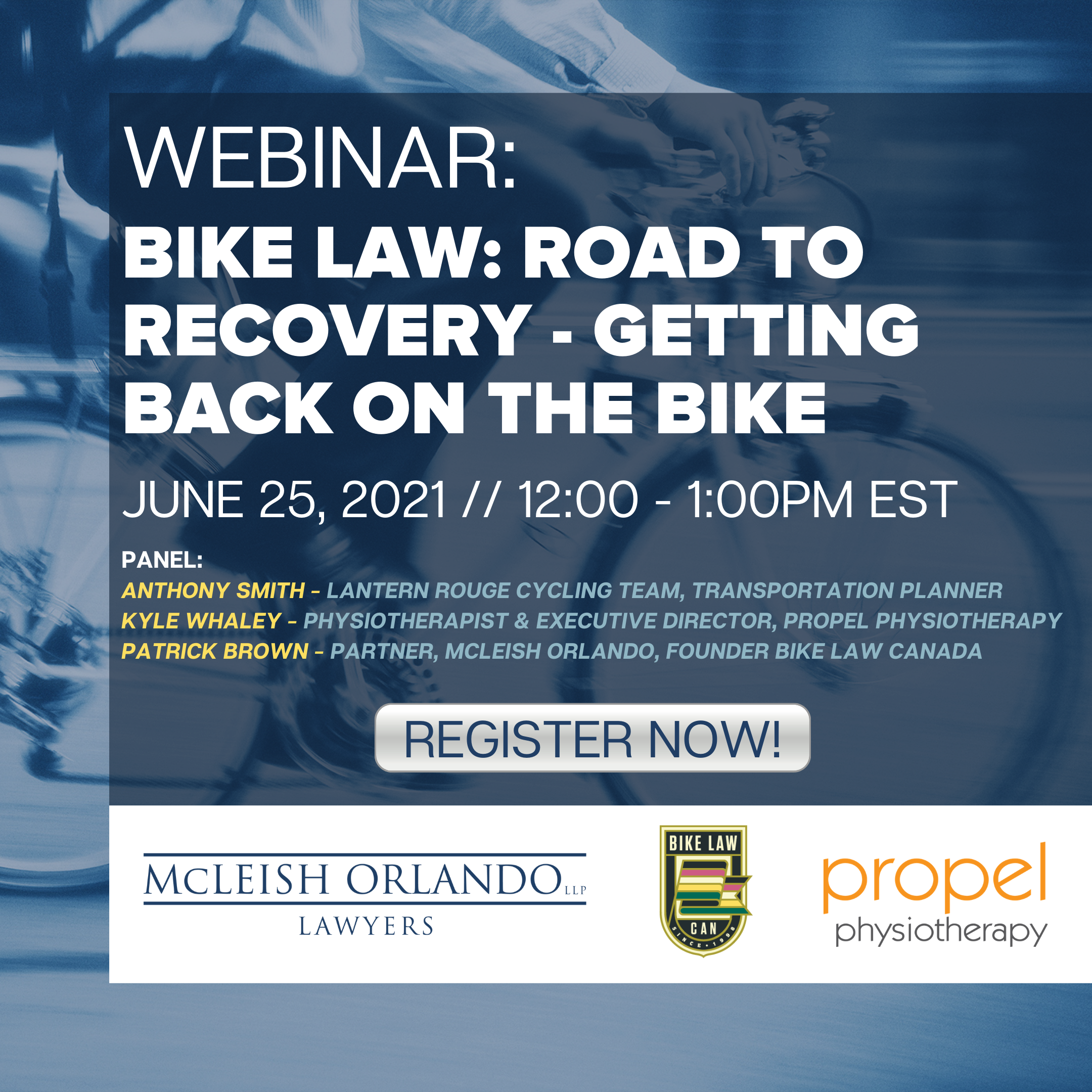 Bike Law: Road to Recovery – Getting Back on the Bike
Join a great panel over the lunch hour to learn about bike crashes and the law in Ontario, rehabilitating after a bike crash, and returning to life following a bike crash from a survivor's perspective.
Learn about cyclists' rights and what to do when a crash occurs. A must-attend for all those that ride and those that rehabilitate injured cyclists.
The Panel:
Anthony Smith – Lantern Rouge Cycling Team, Transportation Planner
Anthony is a lifelong lover of riding bicycles. He raced mountain bikes in his youth, then branched out into urban commuting and recreational road riding as he got older. He is also a member of the Lantern Rouge cycling team in Toronto. He believes the world is a happier, healthier, and more equitable place when more people ride bikes. Anthony is an urban planner focused on transit planning, and he formerly worked as an Active Transportation consultant helping to design cycling infrastructure to help improve road safety for all users. He now lives in Etobicoke with his wife and 2-year old dog.
Kyle Whaley – Physiotherapist & Executive Director, Propel Physio
Kyle Whaley graduated from the University of Toronto Physical Therapy in 2002 and began working at Lyndhurst with spinal cord injured clients. His passion for working with neurological injuries – traumatic brain injury, spinal cord injury, and stroke helped him realize the opening of a private clinic dedicated to the treatment of these types of conditions. He has spearheaded the use of cutting-edge technology at Propel including the KeeogoTM robotic-assisted walking device and the PoNSTM (portable neuromodulation stimulator). Kyle is an adjunct lecturer at the University of Toronto in the Department of Physical Therapy and lab clinician for the Masters of Science in Physical therapy program. He also sits on the advisory board of the Brain Changes Initiative.
Patrick Brown – Partner, McLeish Orlando, Founder Bike Law Canada
Patrick Brown is a principle partner and owner of McLeish Orlando LLP and has been practicing personal injury in Ontario for over 25 years. He is an avid cyclist and proudly advocates for cyclists' safety in Ontario. Patrick is the head organizer of the Vulnerable Road User Coalition of Ontario which lobbies for new laws to end road violence.
Click HERE to register!