In the short season of summer weather that we experience each year, Canadians are eager to get outside and get on the water. However, it's imperative that precautionary measures are taken in order to avoid accidents and stay safe. Even if you are an accomplished swimmer, grew up around water, or have been driving a boat for years, you can never be too careful. Water fatalities are entirely preventable, and with these tips, you can ensure the safety of your entire family. Many of the following tips are not only recommended, but are also enforced by law.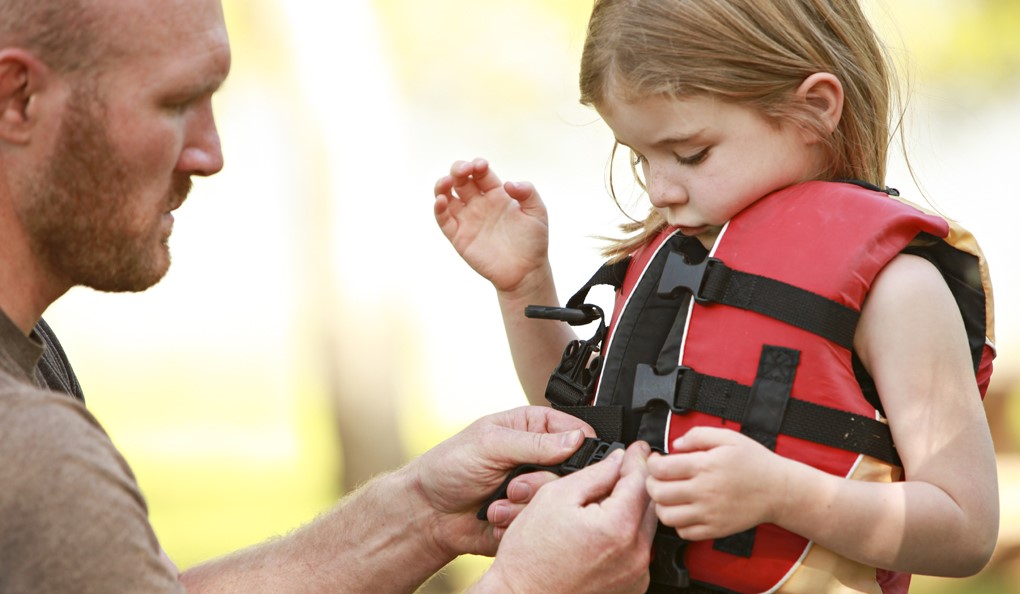 1. Make Everyone Wear a Lifejacket at All Times
It is reported that 9 out of 10 people who drown in boating accidents are not wearing lifejackets (SafeKids). Lifejackets are one of the best ways to stay safe on the water. In fact, you cannot operate a motorized vessel without having a fitted lifejacket for everyone on board, as per the Canadian law. Although the law does not require passengers over 16 to actually wear a lifejacket, it is recommended that they are kept on at all times. This ensures that you stay afloat, even if you are knocked unconscious in a boating accident. There are three types of Canadian-approved lifejackets that you can purchase:
"Safety of Life at Sea" lifejackets are approved for all vessels.
Standard lifejackets are approved for all vessels, except for SOLA vessels.
Small vessel lifejackets are approved for small vessels (recreational).
2. Follow the Boating Regulations
There are many boating regulations that have been put in place to ensure water safety. One of the most important things that the Canadian law requires is that anyone operating a power-driven boat must have proof of competency. This proves that they understand the rules of the water and safe operation of a boat. Additionally, it's important to remember that the regulations are constantly being updated. So, it is highly recommended to update yourself and all drivers each year to ensure the safety of everyone. Additionally, never get on a boat with someone that is not qualified to operate it. Remember to keep the following documents on board:
Boat certificate.
Boat registration.
Proof of competency.
Towing policy paperwork, if you have one.
3. Everyone Needs to Stay Aware
Whether you are on the boat alone, or with friends or family members, awareness is absolutely imperative. The driver must stay focused on the water to ensure that the boating laws and rules are followed, and having other people distracting them can be very dangerous. As a rule of thumb, ensure that everyone on the boat understands that they are to look out for one another, especially with little ones on board, as the driver is unable to delegate responsibilities while operating the boat. Additionally, to further ensure the safety of everyone on the boat, you should:
Never exceed the number of passengers allowed on the boat.
Make sure all passengers remain in their seats while the boat is moving.
Be aware of all surroundings at all times, such as weather conditions and other boats.
4. Check the Weather
The weather can quickly turn calm water into a dangerous situation. Before getting on a boat, always check the weather. While it may be a clear, sunny day, the clouds may shift and a storm may roll in at any time. Check the forecast, not only for the current weather status, but also for the weather predictions during the time that you will be out on the water. If a storm is forecasted, you should save the boating for another day. It is never worth the risk – even if you have exceptional boating skills and plenty of experience. Additionally, you may want to check the boating forecasts to get a more accurate look at what the water will bring for the day. You should also be sure to:
Consider the UV rays, and avoid going out when they are high.
Wear protective clothing as needed.
Always wear sun lotion with a minimum of 15 SPF.
5. Practice Safety First
Practice safety before anything else. Ensure that your boat is operating as it should be, with full fuel levels, working lights and a reliable engine. Have an emergency plan in place and make sure that all passengers understand and can follow it. Additionally, you always want to make sure that someone on land knows when you're going out on the water, the route you are taking and when you expect to return. Accidents can happen, but they are preventable. Consider having the following supplies on board as well:
Fully stocked first aid kit.
Functioning fire extinguisher.
Working radio device
Being out on the water is an exciting activity that is fun for everyone. However, in order to keep this activity safe and enjoyable, you need to practice safety on the water.