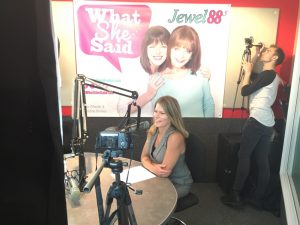 A couple weeks ago I was asked to speak on the radio talk show What She Said, hosted by Christine Bentley and Kate Wheeler about the recent changes to auto insurance in Ontario. I gladly agreed to participate as I think it is an important topic that many consumers simply don't understand. We taped the segment in their studio today.
Understanding the Auto Insurance in Ontario
In Ontario, if you or your loved ones are seriously injured in an auto accident, then you are entitled to receive the "No Fault" benefit, also known as "Accident Benefits". A person is entitled to the following three benefits (regardless of fault):
Medical and Rehabilitation Benefits
• E.g., a physiotherapist to help rehabilitate a person's injuries
Attendant Care Benefits
• E.g., a personal support worker that visits a person's home to help them with activities of daily living
Income Replacement/ Non-Earner Benefits
As of June 1st, 2016, the amount of money available under these categories of benefits has been drastically reduced! The Accident Benefit System saw a major reduction in 2010 and is now being further diminished. The amount of money a person has access to, depends on the severity of their injuries. There are two categories of injury: People who suffer serious but not catastrophic injuries, outlined below as "Non-Catastrophic Injuries," and one for those who suffer serious catastrophic injuries, such as a spinal cord injury or severe brain injury, outlined below as "Catastrophic Injuries."
| | | | |
| --- | --- | --- | --- |
| | Before September 1st, 2010 | Before June 1st, 2016 | After June 1st, 2016 |
| Non-Catastrophic Injuries | $172,000 | $86,000 | $65,000 |
| Catastrophic Injuries | $2 Million + | $2 Million | $1 Million |
How can you ensure you and your family have sufficient insurance coverage?
You need to speak to your insurance broker or company and ask about purchasing more insurance coverage. Here's why the Ontario insurance changes should be important to you:
The majority of Ontarian's are unaware of the recent insurance changes.
According to the Insurance Brokers Association of Ontario (IABO) 2016 Consumer Survey, only 42% of auto insurance customers in Ontario are aware of the changes that took place on June 1st. This is alarming to me, due to the devastating nature of the changes (as outlined above). As a personal injury lawyer, I see the impacts of insufficient access to benefits all the time. It is crucial that you understand your insurance policy and the implications of each entitlement.
Consumers are more concerned with the price of their policy than the coverage they receive.
How do you shop for auto insurance? I hear the same answer all the time; "I call around and go with the lowest quote". This brings me back to the point highlighted in number 1 – most people are unaware of what is really going on with their auto insurance. Insurance policies are complicated and contain many terms that the average person is not familiar with. Couple the lack of understanding with the fact that people do not plan on being in life altering accidents, and the end result is that when people are seriously injured from a car accident many are stuck with inadequate coverage. Ask as many questions as you need to, to ensure you understand how much coverage your insurance policy will provide you.
Buying more insurance costs less than you think.
As Ontarians we know that we are paying outrageous amounts for car insurance. So, the last thing that you would want to do is pay more – right? Wrong! In most cases to opt-up to a level of coverage that would provide you and your family sufficient coverage in the event of a serious accident is relatively inexpensive, depending on your driving record, age, etc. Ask your insurance provider for multiple quotes based on different levels of coverage. This will help you understand how reasonable the cost of opting-up coverage can be. Here are some important questions to ask specifically about your Accident Benefits to ensure you are covered:
 What was my coverage before June 1?
What will it be when I renew my insurance?
How much will it cost me to obtain the same coverage?
How much will it cost me to obtain more coverage?
In conclusion, finding the cheapest insurance coverage should not be your goal. Finding an insurance policy that will offer you the most protection is. Insurance policies can be very confusing, but don't hesitate to ask your insurance provider as many questions as necessary. Your coverage should be a priority, as the amount you receive in the event of an accident can make all the difference in your recovery and access to rehabilitation specialists. I hope this will help you to understand the options that are available to you and how insurance works in Ontario.