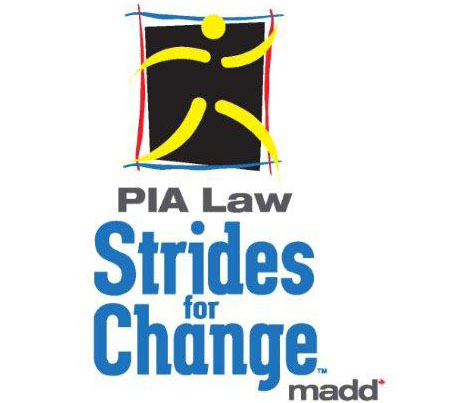 PIA Law Strides for Change – 5K Run in Support of MADD Canada
McLeish Orlando, as a member firm of PIA Law, is pleased to support Mothers Against Drunk Driving (MADD) Canada's PIA Law Strides for Change 5K Run.
Strides for Change is a MADD Canada's family-friendly annual walk and run, in support of Chapters and Community Leaders in their efforts to educate the public about the dangers of impaired driving and to help victims in their communities. The campaign is also an opportunity to keep safe and sober driving top of mind during the spring and summer months when the rate of impaired-related crashes are traditionally higher.
Bring your friends, family and your co-workers to MADD Canada's 5km signature walk/run, Strides for Change! Enjoy food, beverages, warm up, silent and live auction, victim/survivor tent and so much more!
Every step taken and pledge made will help raise funds and awareness for MADD Canada's programs and services that will serve to keep our children and communities safer.
For more information, and to register, click here.