Don't CATch COVID, CATch up on CATastrophic Impairment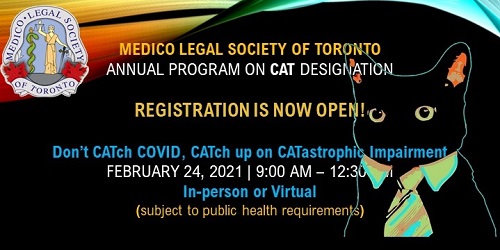 In-person or Virtual (subject to public health requirements)
9:00–9:05 AM
Opening Remarks
9:05–9:30 AM
Top 5 PURR-iceless CAT Cases of 2020,  Joseph Cescon, Partner, McLeish Orlando
9:30–10:15 AM
Don't 'pussyfoot' Around with Assessments. Join us to learn about Virtual CAT Assessments!
Moderator: Philippa Samworth, Dutton Brock LLP
Panel:
Dr. Harold Becker, Medical Director, Omega Medical
Dr. Dory Becker, Psychologist
Dr. Lisa Becker, Physiatrist
Dr. Lara Davidson, Neuropsychologist
Dr. Michael Ross, Psychiatrist
Bani Ahuja, Occupational Therapist
10:15–10:30 AM
Paws (Break)
10:30–10:55 AM
Paw-sible Payment of CAT Assessments II: Behavioural Boogaloo, Sven Mascarenhas, Gilbert Kirby Stringer LLP
10:55–11:30 AM
Does Surveillance Really 'Purr-suade' Assessors?
Moderator: Andrea Lim, Dutton Brock LLP
Panel:
David Preszler, Preszler Law
Joanne Romas, OT
Dr. Bruce Paitich, Orthopaedic Surgeon
Dr. Brian Kirsch, Psychiatrist
11:30–12:20 PM
What Qualifies as a Medically Recognized 'PAW-sitive' Finding on Diagnostic Technology under Category 4?
Moderator: David MacDonald, partner, Thomson Rogers
Panel:
Dr. Yin-Hui Siow, Radiology and Nuclear Medicine
Dr. Manu Mehdiratta, Neurologist
Dr. Rob Tarzwell, Neuropsychiatrist and Nuclear Medicine Specialist.
Dr. John Thornton, Neuropsychiatrist
12:20-12:30 PM      Q&A | Closing Remarks
PROGRAM CO-CHAIRS: Philippa G. Samworth, Dutton Brock LLP & David Raposo, Dutton Brock LLP
This program is eligible for up to 3 Substantive Hours
REGISTRATION FEES:
                                                                    MEMBER                                           NON-MEMBER
Regular:                          $282.50 ($250.00 + $32.50 (13% HST)       $367.25 ($325.00 + $42.25 (13% HST)
Young Practitioner*:      $141.25 ($125.00 + $16.25 (13% HST)       $169.50 ($150.00 + $19.50  (13% HST)
Student*/ Retired:          $  73.45 ($  65.00 + $ 8.45 (13% HST)        $101.70 ($  90.00 + $11.70  (13% HST)
*Young Practitioner: in practice for less than 5 years.  Student: attending a recognized law/medical school; bar admission course; articling student; intern; resident.  Retired: over 65 and fully retired
TWO WAYS TO REGISTER: