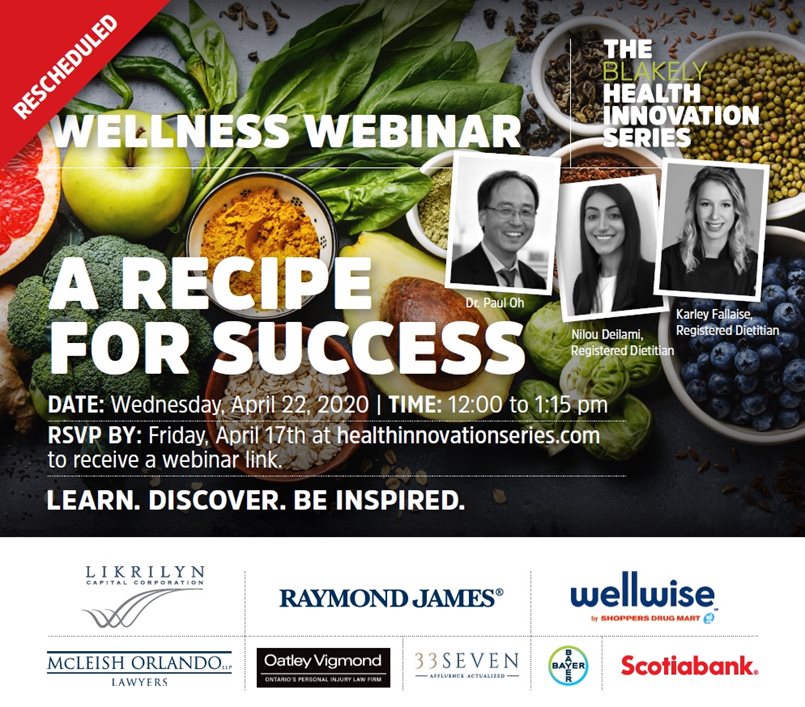 A Recipe for Success – Wellness Webinar
Join us for this free Wellness Webinar in The Blakely Health Innovation Series to learn the ABC's of eating right. Dr. Paul Oh, Medical Director of Toronto Rehab's Cardiac Rehab Program, with Registered Dietitians Nilou Deilami and Karley Fallaise, will discuss the basics of nutrition. They will help us navigate through the increasingly complex landscape of healthy eating, food marketing and popular diets. You will learn how to make confident food choices that will help optimize your health.
Making healthy lifestyle choices help us maintain vitality as we age. The way we eat is widely recognized as critical to preventing and managing many illnesses and diseases; helping us to live longer and better. But what does healthy eating actually mean?
Click here to register for the free Wellness Webinar!
The webinar will be live-streaming on YouTube on Wednesday, April 22, 2020 from 12:00pm – 1:15pm.