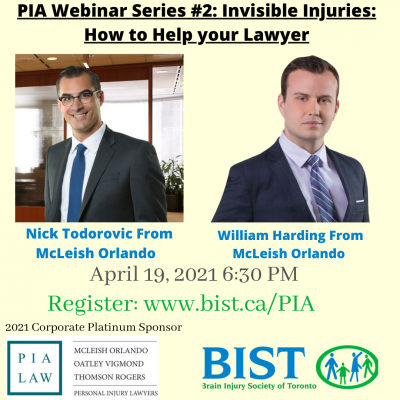 PIA Webinar Series Session #2 – Invisible Injuries – How to help your Lawyer
As a member firm of PIA Law, we are proud to sponsor BIST's 3-Part Webinar series.
Learn practical tips & tools on legal representation during the Pandemic and how COVID-19 has impacted supports for people living with the effects of brain injury.
Join McLeish Orlando associates, Nick Todorovic and William Harding, to learn what to do and how you can help your lawyer in proving your brain injury case.
There are a number of difficulties Plaintiff's counsel faces in trying to prove the existence and severity of a traumatic brain injury or a mild traumatic brain injury. One of those difficulties is that most brain injuries, unlike other injuries such as a broken arm or an amputated leg, are invisible to the naked eye. X-rays, CT scans, and MRIs can detect fractures, hemorrhages, swelling, and certain kinds of tissue damage, but they cannot always detect injury to a person's brain.