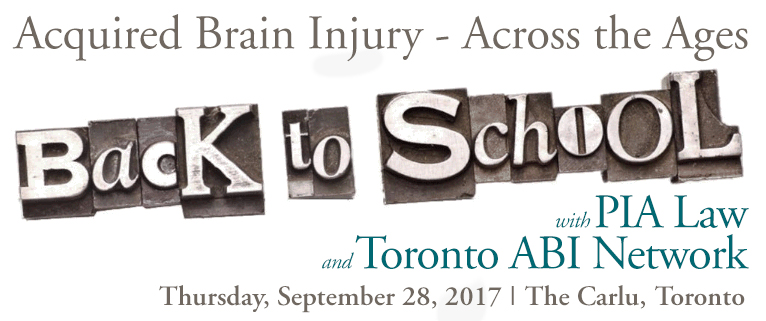 PIA: BACK TO SCHOOL CONFERENCE 2017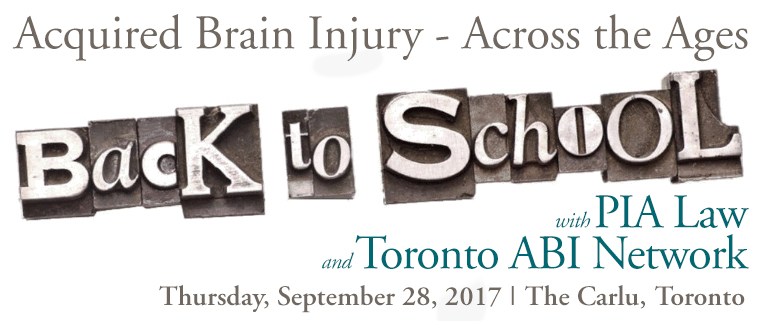 PIA Law and Toronto ABI Network are pleased to co-host the Back to School Conference 2017 at The Carlu on Thursday, September 28th.
This year's conference will focus on Acquired Brain Injury – Across the Ages.
CLICK HERE to register.
TIME: 8:50 a.m. to 4:00 p.m. | Cocktail reception to follow immediately after the conference.
COST:
Early Bird Cost (until July 31st): $150 ($140.95 + $9.05 fee)
Cost (as of August 1st): $200 ($188.12 + $11.88 fee)
Cost includes conference binder, breakfast buffet, refreshments, lunch and cocktail reception.
All proceeds from this conference will be donated to Toronto ABI Network.
LOCATION:
The Carlu – 444 Yonge Street, 7th Floor, Toronto
You may enter off College Street (by the Winners and Tim Hortons) or from Yonge Street (south of College). You will find the elevators to the 7th floor located across from the escalators.
SPEAKERS:
At this time, the following speakers have been confirmed:
Dr. Paul Comper, Toronto Rehab
Dr. Nora Cullen, West Park Healthcare Centre
Dr. Rolf Gainer, Neurologic Rehabilitation Institute at Brookhaven Hospital
Dr. Meldon Kahan, Women's College
Dr. Daune MacGregor, Hospital for Sick Children
WHO SHOULD ATTEND:
This conference will be of special interest to social workers, discharge planners, occupational therapists, case managers and other healthcare professionals who treat, advise and advocate on behalf of the brain injury community.
CONTINUING EDUCATION CREDITS:
Conference attendance certificates will be provided to all delegates. Delegates are encouraged to review self-assessment guidelines issued by their professional college or association for continuing education credits or contact their professional college or association for further information.
QUESTIONS:
Should you have any questions, please contact Elisa O'Neill of Thomson, Rogers at 416-868-3195 or by email at [email protected].