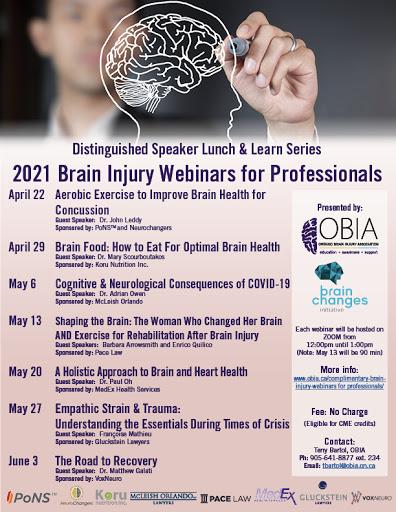 OBIA and BCI's 2021 Brain Injury Webinars for Professionals – Cognitive & Neurological Consequences of COVID-19
Together, Ontario Brain Injury Association and Brain Changes Initiative are pleased to announce the development of a Distinguished Speaker's Webinar series designed to inform frontline health care workers and professionals in the field of brain injury.
McLeish Orlando is proud to sponsor the May 6, 2021 webinar:
Cognitive & Neurological Consequences of COVID-19
Guest Speaker: Dr. Adrian Owen
As the number of people recovering from the effects of COVID-19 infection continues to grow, it is becoming increasingly clear that many are experiencing ongoing cognitive challenges, including problems with memory, attention, reasoning, and simple problem-solving. These issues could be caused by many aspects of COVID-19, from direct viral effects on the brain (such as neuroinflammation, stroke, and autoimmune responses), to indirect effects resulting from inflammation, blood clots, low oxygen levels, sedation, and ventilation. Nevertheless, as the worldwide incidence rates of COVID-19 infection exceed 100M, many questions remain unanswered. First, are these cognitive deficits, where they occur, generalized or 'domain-specific; that is, do they affect certain cognitive systems more than others, and, if so, which cognitive systems are most susceptible? Second, how does the emergence of cognitive deficits following COVID-19 infection relate to the severity of the primary infection? Third, in those patients who are most affected, are these cognitive disturbances temporary, permanent, or do they signal the onset of a neurodegenerative cascade that results in a deteriorating pattern of impairment over time?  Fourth, how does the pattern of cognitive deficits observed following COVID-19 infection relate to other aspects of mental health such as anxiety, depression, and fatigue that may be a consequence of the disease process itself or a more general effect of living during the time of a global pandemic? In this talk, you will be provided with answers to some of these questions through the results of a large, online study of the cognitive sequelae of COVID-19 infection.